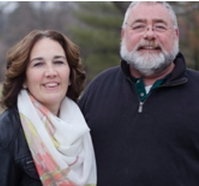 The Becker family has been rooted in construction for as long as we can remember. We grew in the industry like every skilled carpenter, sweeping floors and cleaning debris. Years of experience in almost every field of contracting has allowed us to expertly execute projects, bringing dreams to life.
I joined the Becker family in 1987, and with my husband Donn, we began to establish what would one day become TBC Installs.
The early portion of our marriage he continued working as a contractor, while I took up administrative jobs with various contracting companies and local manufacturers. The combined experience of Donn's carpentry know how, and my understanding of business management, we formed Becker Construction.
Several years later we took the correct steps to become incorporated, and our company officially became Tracy Becker Construction Inc.
In 1995 we joined the Home Depot as an official Service Provider, going through their detailed process of checks and interviews.
It is now approaching 20 years of partnership with the Home Depot, where our company has grown from nothing but a home office and a well worn work van, to a multi state operation providing work to over 100 hard working individuals. We are proud of the company we've become, and we look forward to taking care of our valued customers as we continue to improve and grow.

Tracy Becker, Founder & President
Tracy Becker Construction Inc.